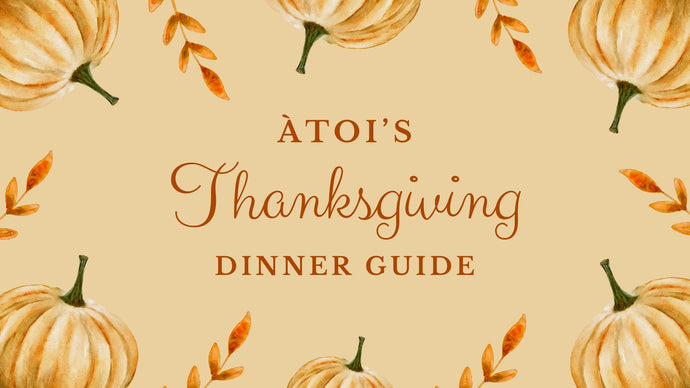 Thanksgiving is a gracious time. 
In addition to spending the day with loved ones, we at ÀTOI are thankful that most Thanksgiving foods are excellent for the skin and the body! Here are a few items on your Thanksgiving menu you can feel good about enjoying.
Turkey is one of the healthiest proteins available because it has the same B12/B complex, which is very important for strengthening the body, that beef has but without growth hormones or cholesterol. Free range turkey produced without nitrates or chemicals to tenderize the meat is best.
Sweet Potatoes, particularly the bright orange ones, are loaded in vitamins and are one of the tastiest vegetables of the season. They're incredible for both the eyes and the skin and are the only food that actually helps regulate estrogen levels.
Squash, especially the bright orange Butternut and Acorn varieties, are also excellent for the eyes and go very well with turkey. 
Homemade Cranberry Sauce, full of antioxidants, is great for the digestive system and easy on the skin. Just take it easy since it's also high in sugar.
The only Thanksgiving favorite that isn't so great for the body is Stuffing. It can be very fattening and hard to digest. Here's our incredibly delicious, entirely gluten free Turkey Stuffing recipe made entirely from organic vegetables so it's healthy and easy to digest.
ÀTOI's Healthy Stuffing Recipe
 Recipe suited for a 10-14 lb. Turkey
Ingredients:
4 cups Organic  French String Beans
4 cups Organic Riced Cauliflower
Extra Virgin Organic Olive Oil
3 Large Onion (chopped)
1 Head of Organic Celery (chopped)
2 Small cans of sliced Water Chestnuts (drained)
1 packet of Fresh French Thyme (optional)
Dash of Poultry Seasoning
We recommend using a deep roasting pan to cook the turkey. This vegetable stuffing produces a lot of thin ambrosia gravy and the liquid in the turkey pan might overflow. You may want to put a cookie pan on the bottom of your oven to catch any excess liquid. 
Directions: 
Steam Riced Cauliflower and French String Beans. When both are cooked, put in a large bowl and set to the side. Sauté large cooking Onion and a full head of organic Celery in Extra Virgin Olive Oil until they are lightly browned.  Add Onions and Celery to the large bowl with the French String Beans and Cauliflower.  Add Water Chestnuts, French Thyme and Poultry Seasoning (lightly) into the large bowl and mix. Prepare the turkey cavity in the deep roasting pan and add this amazing concoction. If there is stuffing left over, put it in the other end of the turkey.
Although Thanksgiving dinner is full of good food for the skin and the body, we encourage our clients to overindulge in gratitude and spending time with loved ones instead of food. We are blessed to have so much of everything, but there is a freedom in not eating or drinking to discomfort. The next day your waistline and, most importantly, your body will thank you