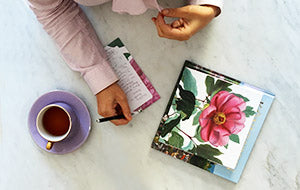 Teaching people how they can improve their skin is what I love to do. I'm so grateful to be able to watch the amazing, positive transformation my clients go through.
It is so important to nurture oneself. I grew up in Montreal, Canada; a place of distinct French character. I developed an appreciation for European quality products, which formed my aesthetic taste. With a beautiful Mother to guide me, I knew even as a young woman it is always better to buy quality. In self care there is no room for compromise; it is a given.
I know how difficult it is for most women to balance self care with business & family life. Self care almost always ends up being pushed to the bottom of our priority list. Almost every woman I have ever met is concerned, frustrated or upset with her skin. With personal and professional pressures, we women look at ourselves far too harshly.
No matter how accomplished the women I meet are, most of them have neglected themselves.
In putting everyone else first, we often lose ourselves in the process.
I encourage everyone I meet to regroup emotionally and take some time to get grounded and centered.
Taking care of one's skin is a wonderful way to begin this. The superb results our clients get starts them on the path to improving other areas of their life. And they can begin this journey at any age, too! It is so encouraging to watch these changes.
We can and we want to help you. Our system is nurturing and effective for all types of skin, including sensitive skin. We stay with you as you transition your complexion to its own radiance. As your skin gets better and better, we will continue to be there for you on your journey; celebrating milestones and setting new goals. We want you to enjoy every step of your remarkable transition to glorious skin. You won't believe your own results.