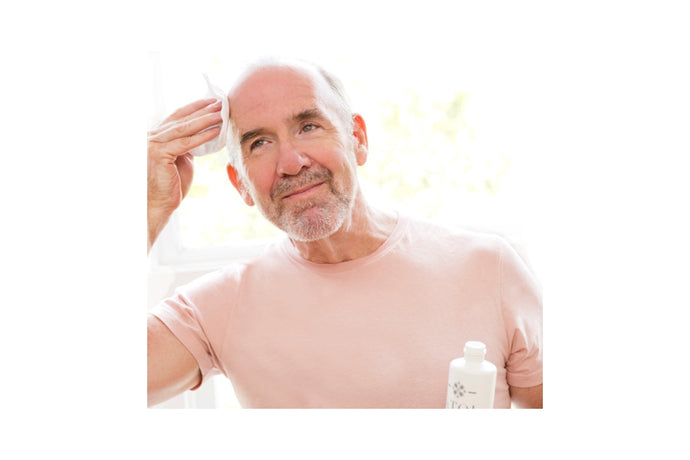 Rosacea is not a curse. It's a sign. Our bodies are constantly communicating with us; a tummy rumble inspires us to rummage through kitchen cabinets, the drip of a runny nose tells us, "time for a day off!" Assuming we're able, we usually do whatever our bodies ask. But when our skin is red and blotchy, and we develop acne-like bumps and severe sensitivity, what is our body trying to tell us?  There is a lot of confusion about the exact cause of Rosacea, but treating the symptoms leads us to believe our bodies are asking us to be gentle and make a few crucial changes. ÀTOI has experience and success with solutions that clear and fully restore the skin. In fact, many of our clients now have the confidence to wear make-up only if they want to. They do not have to cover their skin any more to get by and their skin feels as good as it looks.
Drink Water: Water intake is extremely important for all skin types, but especially for rosacea. Alkaline water is the best, especially for red, irritated skin. Our ÀTOI office favorite is Neo Water; it tastes good and is alkaline which is great for the skin because it neutralizes acidity and is soothing for the body and the skin.  
Drink Only Water: Other liquids like fruit juices, fruit drinks and sodas are no replacement for good ol' H20. Most of them are high in acidity which aggravates the complexion and irritates blotchy, uneven skin. If you're really hankering for a fruity drink, opt for Lakewood Organic Cranberry Juice.
Avoid Acidity: Oranges in particular, but any citrus, even apples and tomatoes, which are good for most people, are not good for Rosacea. They have too much irritating acidity.
Cut the Dairy: Too much dairy, especially cheese, can cause eruptions and coarsen the skin over time.  Luckily, there are now a variety of non-dairy cheese choices—most of the more palatable ones come from cashews or walnuts.  
Handle With Care: Many clients who first come to see us find they have a much harsher hand than they think when cleaning their skin. Rubbing too hard irritates the skin and actually makes the skin coarser. You might be frustrated by your skin, but trying to rub redness away only creates more problems.  
Use Cotton and Distilled Water: We always recommend our clients use ÀTOI 100% Cotton Squares and invest in a plastic spray bottle filled with Distilled water. Then, after bath or shower, gently rinse the complexion with a Cotton Square saturated with distilled water. It will immediately begin to calm irritation.  
ÀTOI: Finding the right skincare routine is an important step to radiant skin. We recommend beginning with ÀTOI's Soothing Milk and Soothing Toner which calm, restore and cleanse the skin. For skin that is regularly red and aggravated, ÀTOI's Soothing Serum calms even the most irritated skin when used with ÀTOI's Soothing Day/night Cream. That is a powerful, effective solution for rosacea.   
We know that changing day-to-day routines is not easy. Most of us are creatures of habit; we look forward and count on having our favorite foods everyday or as often as possible and we like what we know. Be patient. The best approach is being kind and reasonable as we integrate these healthy lifestyle changes which make such a positive change in the skin and how we feel about ourselves. If you are unsure where to begin in calming your rosacea, give us a call at 212-929-2182 or email us at admin@atoiskincare.com.